Burgess Announces Exceptional Students Accepted to Prestigious Service Academies
Washington, D.C. – Congressman Michael C. Burgess, M.D. (R-TX), Vice Chairman of the House Rules Committee, is pleased to announce the outstanding students from the 26th Congressional District who have accepted appointments to attend our nation's service academies.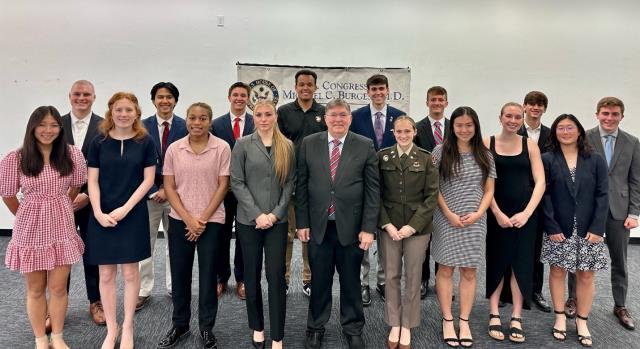 Class of 2027 Academy Appointees Photo (left to right):
Front Row: Lindsay Kim, Amy Lindberg, Jordyn DeVaughn, Faith Sammons, Congressman Michael Burgess, 2LT Meredith Fusselman, Anna Sheley, Erika Safranek, Mackenzie Lee
Back Row: Jonathan Brown, Daniel Sheley, Christian Van Klein II, Zane Hicke, Jacob Hapanowicz, Nolan Marshall, Nicholas Munkittrick, Evan Gledhill
One of the privileges of serving in the U.S. House of Representatives is the opportunity to nominate superlative young people to be considered for appointment to the U.S. Military Academy at West Point, NY, the U.S. Naval Academy at Annapolis, MD, the U.S. Air Force Academy at Colorado Springs, CO, and the U.S. Merchant Marine Academy at Kings Point, NY. The U.S. Coast Guard Academy at New London, CT does not require a congressional nomination.

This past November, the Academy Board, chaired by Col. Pat Smith (USAF, Ret.), met to complete an objective, merit-based review of applicants' files and conduct personal interviews. Following this work, the board presented their nomination recommendations to Congressman Burgess.

The incoming Class of 2027 service academy appointees were recently honored at a reception hosted by the City of The Colony. Mayor Richard Boyer welcomed the appointees, their families and members of Congressman Burgess' Service Academy Board. The colors were presented by the American Legion Holley-Riddle Post 21 Honor Guard.

At the reception, each appointee in attendance was presented with a Special Certificate of Congressional Recognition and a flag flown over the U.S. Capitol at the request of Congressman Burgess in honor of their appointments. These appointees reside in the 26th Congressional District and received a nomination from Member of Congress, the Vice President, or one of the Academy Superintendents.

Special guest 2LT Meredith Fusselman (US Army) of Roanoke, a 2023 West Point graduate, spoke briefly to the appointees regarding her graduation, commissioning and first duty assignment.
West Point Academy:
Henry Appleton
Trey Batson
Clayton Bauer
Jonathan Brown
June Chatterly
Jacob Hapanowicz
Zane Hicke
Grace Kim
Nicholas Munkittrick
Caden Roesner

U.S. Naval Academy:
Randy Falkner
Reagan Grady
Lindsay Kim
Mackenzie Lee
Amy Lindberg

U.S. Merchant Marine Academy:
Major Barkley
Patrick Novotny
Ricardo Olivares
Preston Plank
Faith Sammons
Erin Stillinger

U.S. Air Force Academy:
Jordyn DeVaughn
Evan Gledhill
McKenzie Keeling
Van Klein
Nolan Marshall
Gavin Peterman
Erika Safranek
Anna Sheley
Daniel Sheley
Nathan Ullrick
Joshau White

U.S. Coast Guard Academy:
Adam Alami
Ryan Doty
Dylan Prince

Hometown:
Denton
Argyle
Frisco
Frisco
Providence Village
Frisco
Highland Village
Flower Mound
Lewisville
Lewisville


Fort Worth
Frisco
Lewisville
Frisco
Keller


Haltom City
Fort Worth
Flower Mound
Flower Mound
Aubrey
Keller


Little Elm
Flower Mound
Denton
Flower Mound
Flower Mound
Justin
Denton
Flower Mound
Flower Mound
Prosper
Westlake


Lewisville
Keller
Flower Mound